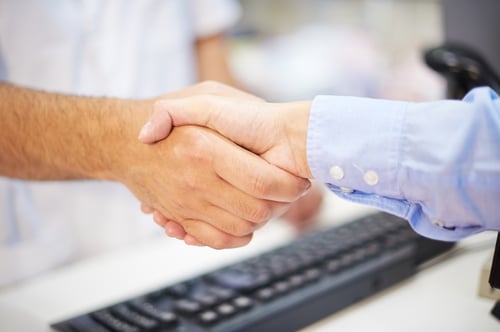 Lets face it, health care is not immune to the need for marketing our services. While we didn't "sign up" to be a salesman of our services, it can and should be done in a manner that's a permission based model.
The model I'm describing is one we have come to know as Inbound Marketing. Rather than being a pushy salesman, it relies on creating content online that can be found by your potential patients. We have written previous articles covering in detail the process that your potential patients search to find you. But how can they find you if you're not embracing this thing we call Inbound Marketing?
Its important to create content based around your potential patients pain points. Here's the exciting thing, you can own the market if you follow these steps and i mean follow them. I use a medical company in Alaska as an example (yes I'm biased being the founder and previous owner of this company). You see we launched the steps that I'm about to share with you for my previous company Alaska Sleep Clinic (ASC). If a small 4 site Sleep Center in Alaska can implement these simple steps and own their field by going from just over 1k visitors to 135k visitors per month in little over a years time then I'd almost bet that your geographic limits aren't that of ASC.
Exponential Growth of Alaska Sleep Clinic by Implementing Inbound Marketing
A Simplified But Smart Medical Website
Most medical websites have a cluttered site that's difficult to for their prospective patients to navigate and find information. It starts with the home page. The home page purpose? Its to get the reader to page two...plain and simple as that. The home page needs to get the client to the identify the main services that you provide. An example below is from SomnoSure, a Home Sleep Testing business based out of St Louis Missouri. Their homepage is a great example of focusing on 3 main points of their service:
Awareness of the condition that they treat: Snoring and Obstructive Sleep Apnea
Home Sleep Testing: The focus on the home sleep testing as the only sleep testing that they do
Treatment: The different modalities of treatment are provided
See the example below from SomnoSure.com:



Its important to understand that while there is a lot of details on each of the three above points but they don't try to tell it all on the home page.
Blog: The Attraction
Rather than focusing on your services like your website, a blog is focused on the pain points of your potential clients. The blog is to inform and educate rather than sell. This where you are found by individuals that don't even know you exist.
I've recently written in great lengths the importance of understanding your "buyer personas" or in the medical field your potential patients. Unless you know your audience, it does you no one any good to write articles that don't hit their target.
For example, if you're an orthopedist, you'd write articles about "What are the signs and symptoms of a rotator cuff tear?" or "How much does rotator cuff surgery cost?". I would bet that if someone who has had a recent injury and is suffering from shoulder pain would type in these two questions. How am I so sure? I did, as I recently had this very injury myself.
By writing articles the way individuals ask or "search" online, you are more likely to be found. The more questions that you answer the more you gain their trust. Once you have their trust you are more than likely to get an opportunity to provide your awesome service to them. This philosophy of "they ask, you answer" is the cornerstone to driving traffic to your site via your blog. We have recently written an article titled "Medical Marketing Tips: How To Choose Your First Blog Topics" which walks you through the process.
Education: Keeping The Eyeballs Glued
Now that you have their attention, the last thing you want them to do is bounce because you don't have any other related topics that could drive them down through the funnel. Much like I have already done in this very blog post, I've included links to other related topics within this blog post. The more they learn from you, the more they identify you as the resource. Being the resource in your particular specialty garners trust.
Nurture: Think Of This As House Calls
Earlier i mentioned that a website needs to be Smart. What i mean by this is offering free educational e-books or white papers on services that you provide. These come in the way of Call-to-Actions or CTA's. A CTA is an offer that is tied to a specific blog post or campaign that you have on your website that ties a request for at minimum and email address. After all you're giving them something that's tangible and if they come to trust you as a resource online, they shouldn't have an issue providing you some basic information about themselves.
Once they've provided you their information you have what we classify as a lead. The lead then is nurtured in a way by providing them with additional information that they had indicated they were interested in by downloading your offer. Depending on the offer, "A free 10 minute phone assessment" or "Download this free ebook on snoring and sleep apnea" will depend of the follow-up that will be appropriate. The free 10 minute phone consultation would be a phone call by the sleep center. Rather the ebook download on Snoring and Sleep apnea might be followed up with an email offering another "free ebook on Sleep Studies".
Grow: Your Audience And Patient Base
If you follow the steps mentioned in the article you will see growth in both traffic and patients. My Alaska Sleep Clinic continues to own its space because we addressed many of the patients questions. You too can own your space if you do the following:
Simplify your Homepage and the rest of your site making it easy to find information
Blog by writing articles that reflect your patient's pain points...remember "They ask, you answer"
Nurture your audience by adding CTA's within your content to provide value and ultimately build trust
If you'd like more information on the services that inboundMed provides to its clients, just click on the CTA below and get your Free Checklist: How to run and Inbound Marketing campaign....you see what i did there? If you download the checklist I will follow up!